Service 1: Design Wolf Studio
Trend forecasting, design development, prototyping, and fashion samples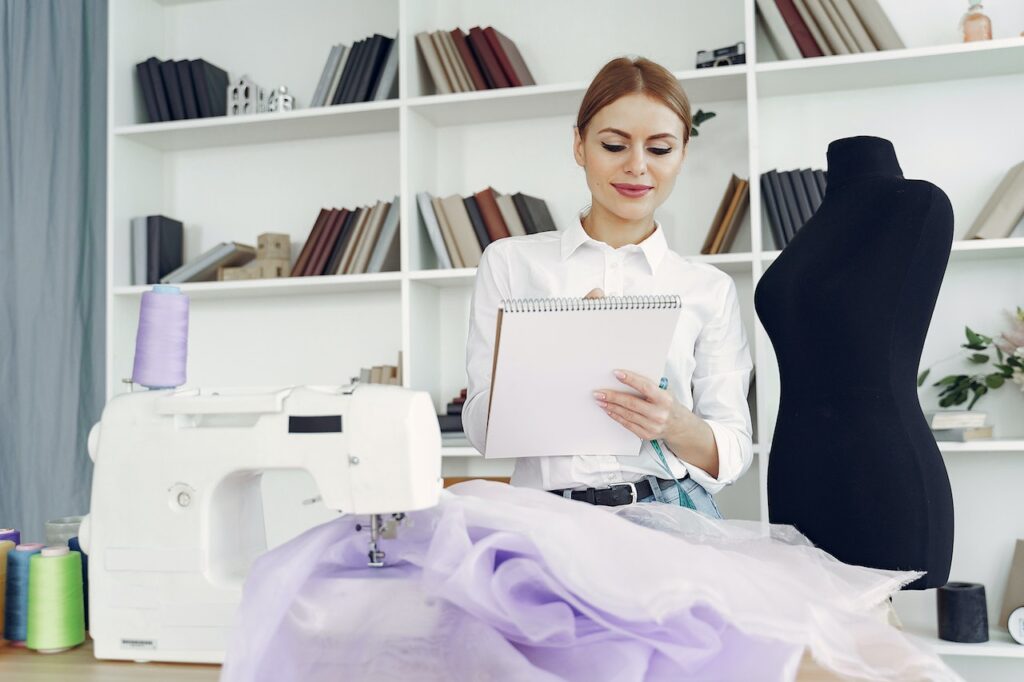 Service 2: The Fotel (Fashion Hotel)
Welcome to The Fotel, where fashion meets luxury and creativity flourishes. Our exclusive residential retreat offers a unique space for co-creating innovative fashion alongside world-class mentors. Immerse yourself in an inspiring environment that fosters collaboration, learning, and the nurturing of creative outcomes.
Residential Retreats: Experience the ultimate fashion retreat at The Fotel. Our retreats bring together like-minded individuals, including designers, stylists, and industry experts, for a transformative experience. Stay in our luxurious accommodations and be surrounded by the beauty and tranquility that inspires creativity.
Co-Creation Spaces: Engage in collaborative sessions and workshops with renowned mentors who will guide you through the fashion design process. Share ideas, gain valuable insights, and work alongside industry professionals to refine your craft and take your designs to the next level.
Sample Development: As part of our comprehensive offering, we provide sample development services to bring your designs to life. With access to state-of-the-art facilities and skilled artisans, you can see your creations take shape in exquisite detail.
Accommodation: Indulge in the comfort and elegance of our accommodation facilities. Each room is designed to provide a relaxing and inspiring ambiance, allowing you to recharge and rejuvenate during your stay.
Upsell and Cross-Sell Strategy:
Upsell: Enhance your retreat experience with our exclusive Sound Spa services. Treat yourself to a soothing and rejuvenating session that promotes relaxation and creativity. Unwind after a day of co-creation and let the gentle sounds and tranquil atmosphere transport you to a state of serenity.
Cross-Sell: As a retreat participant, you have the opportunity to avail of a complimentary Styling Session with our Bespoken AI stylist. Discover personalized style recommendations that perfectly complement your designs and enhance your overall fashion journey.
Ready to embark on a transformative fashion retreat? Click the "Book Your Retreat" button to secure your spot at The Fotel. Immerse yourself in a world of creativity, collaboration, and inspiration as you co-create innovative fashion with industry mentors and experience the ultimate luxury retreat.
Service 3: Tukacenter Services (Technology-enabled Fashion Services)
Grading: Achieve scalability and size variation effortlessly with our grading services. Our advanced grading software enables you to generate size ranges quickly and accurately, ensuring consistency across your product offerings.
Digitizing: Embrace the digital transformation of the fashion industry by digitizing your patterns and designs. Our digitization services convert your physical patterns into digital files, providing you with greater flexibility, easy storage, and the ability to collaborate seamlessly with stakeholders.
Plotting: Experience the efficiency of automated pattern plotting with our cutting-edge plotting machines. We transform your digital patterns into precise physical templates, ready for production, reducing manual errors and enhancing accuracy.
Printing Markers: Optimize fabric utilization and minimize waste with our marker printing services. Our software generates efficient marker layouts, maximizing the use of fabric while minimizing material consumption, ultimately saving costs and reducing environmental impact.
Sample Making: Bring your designs to life with our sample making services. Our skilled craftsmen and advanced equipment ensure the creation of high-quality prototypes that closely resemble the final product, allowing you to visualize and refine your designs before production.
Upsell and Cross-Sell Strategy:
Upsell: Enhance your pattern development process with our Bespoken AI stylist. As a Tukacenter Services client, you have the opportunity to receive a complimentary Styling Session. Our AI-powered stylist, Alina, will provide personalized style recommendations for your designs, ensuring they align with current fashion trends and consumer preferences. This added service helps you create garments that not only fit well but also resonate with your target market.
Cross-Sell: When you choose our technology-enabled fashion services, we offer a cross-selling opportunity for Design Wolf Studio. Collaborate with their team of experts to leverage their trend forecasting, design development, and prototyping services. Combine the power of technology and creativity to create fashion collections that stand out in the industry.
Ready to revolutionize your fashion production process? Click the "Get Started" button to explore the world of Tukacenter Services. Experience the efficiency, precision, and innovation that our technology-enabled solutions offer. Start your journey towards optimized pattern making, grading, digitizing, plotting, printing markers, and sample making. Let Tukacenter Services be your trusted partner in transforming the way you bring your fashion designs to life.
Welcome to Bespoken, where fashion meets the future. Join our exclusive community and unlock the power of our AI stylist, Alina. With Bespoken, your end consumers will receive personalized styling advice tailored to their unique body shape and the occasion they're dressing for. Help your end consumers discover their style using our Bespoken AI style recommendation engine.
Upsell and Cross-Sell Strategy:
Upsell: As a subscriber to the Bespoken services, you'll have access to our Tukacenter Services as well. Enhance your brand's offerings by utilizing our advanced 2D and 3D technology-enabled services, including pattern making and grading. Collaborate with our experts to create innovative blocks that perfectly fit your clients and improve your existing ready-to-wear blocks based on the feedback gathered during the styling services. Elevate your brand's quality and precision with the integration of Tukacenter Services.
Cross-Sell: Take advantage of our prototyping and sample development capabilities. With our extensive expertise, we can create prototype samples and conduct pre-testing polls for your brand. By understanding which styles resonate with your target audience, you'll receive accurate feedback on the designs that receive positive responses and the reasons behind their appeal. This valuable insight will guide your brand's decision-making and ensure that you deliver fashion that aligns with your consumers' preferences.
Ready to revolutionize your end consumers' styling journey? Click the "Join the Bespoken Community" button to become part of our exclusive community. Unlock the full potential of AI-powered styling and gain access to additional Tukacenter Services for pattern making and grading. Elevate your brand's quality and precision while receiving valuable feedback through prototyping and sample development. Join Bespoken and embark on a fashion adventure like never before.
Service 5: The FAD Lounge
Welcome to The FAD Lounge, where fashion, architecture, and design converge. Immerse yourself in a world of creativity through photo shoots and workshops focused on product innovation and design development. Experience the vibrant atmosphere and seize networking opportunities within our inspiring space. As an additional perk, indulge in a complimentary Sound Spa session during the evening to unwind and rejuvenate.
Upsell and Cross-Sell Strategy:
Upsell: As part of our workshop experience, we offer a free prototyping exercise to provide you with instant feedback on your new innovative ideas. Our experts will guide you through the process, helping you bring your concepts to life and create a sample that allows you to visualize your idea in its real form and assess its fit and functionality. This hands-on approach ensures that you have a tangible representation of your creative vision.
Cross-Sell: In addition to the workshop experience, we provide a range of services to support your design journey. Whether it's pattern making, grading, or sample development, our Tukacenter Services are available to enhance your designs' precision and quality. By leveraging our advanced 2D and 3D technology-enabled services, you can optimize your designs and streamline your production processes, ensuring that your creations meet the highest standards.
Ready to immerse yourself in a world of fashion, architecture, and design? Click the "Explore The FAD" button to discover the dynamic atmosphere of The FAD Lounge. Unleash your creativity through workshops and photo shoots, where you'll delve into product innovation and design development. Network with like-minded individuals and expand your creative horizons. As an added bonus, enjoy a complimentary Sound Spa session during the evening to unwind and recharge. Step into The FAD Lounge and experience the fusion of artistry and inspiration.
At Design Wolf Studio, we specialize in contract manufacturing, catering to small lot productions and uniform orders for corporate, schools, and college events. Our experienced team is equipped to handle your manufacturing needs with precision and efficiency, delivering high-quality garments that align with your brand's standards.
Upsell and Cross-Sell Strategy:
Upsell: Enhance your corporate events and campaigns by leveraging our photoshoot facilities. Our professional photographers and stylists will capture stunning images that showcase your brand's essence and create a lasting impact. As an additional benefit, we offer a complimentary styling service for your staff, providing image advisory services to upgrade their style quotient. With the help of our AI-powered Alina bot and trained stylists, we ensure that your team presents themselves confidently and represents your brand impeccably.
Cross-Sell: In addition to contract manufacturing, we offer a comprehensive range of design and fashion services. From trend forecasting to design development and prototyping, our Design Wolf Studio is your one-stop destination for all your fashion needs. By combining our manufacturing capabilities with our design expertise, we can assist you in creating unique and captivating uniforms that reflect your brand identity.
Ready to elevate your corporate events and uniforms? Click the "Request a Quote" button to get in touch with our team. We'll work closely with you to understand your requirements and provide a tailored solution that meets your specific needs. Let us bring your vision to life with our contract manufacturing expertise and comprehensive fashion services.
Don't forget to explore our other services, follow us on social media, and stay updated with the latest trends and fashion news. Reach out to us for any inquiries or collaborations. We look forward to partnering with you to create exceptional fashion experiences.