Know how you can participate and win in the Superforcasters -Style Trend to Tournament
Like The Good Judgment Project (GJP) organised by the professors at the University of Pennsylvania.Including  Philip E. Tetlock (author of Superforecasting) decision scientist Barbara Mellers, and Don Moore, We at Design Wolf are having the Super Trend Forecaster Award that is based on the Tournaments of GJP.
The Super Trend Forecaster Model your Predictions will be based on scored using Brier scores.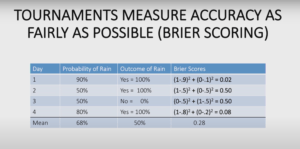 The Basic idea of this measure is to evaluate your skill as a Buyer Designer or Marketer is to bet on your style performance and based on actual sales measure your accuracy of the prediction basis your sample swipe data.
To make it a simpler exercise, basis the 7 secrets of super Trend forecaster you will do the following:
Build your initial concept board using your look-see-Imagine-Create model
Create a Macro Trend Board
Convert the Macro Trend into Micro Trend board based on the Consumer Profile Articulation.
Convert the MicroTrends Into Style Swipes in the Descending order based on probabilistic Brier score as to card no. 1 with the highest strike rate and card 20/25 with the lowest. In a simple ranking order.
Conduct the swipe survey with the sample size of the targeted profile as per the customer profile tabs.
Update your Forecast 
Build your 3d styles for Crowdfunding for sample development.
Update your Ranking order and fine-tune your product bases CGC
Go for sampling
Curate to upsell your product
test your proto at Show back
Go, Trunk Show. 
The styles having the best strike rate as per the prediction will get the super forecaster award. (The Award is not for the highest sales but for the best prediction against the actual sales)
To participate and win the Title Super Trend Forecaster of the year 2021 you need to participate in the tournament. To know more schedule a one on one call here
The Aim of this trend tournament is to evaluate your forecasting skill so we will measure the full price sell-through at the trunk show at the targeted price and not the highest overall sales achievement which has many other attributes like marketing and promotions and discounts etc.)